Remote Help Desk Support
---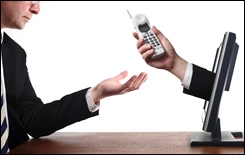 Have a computer problem and need it fixed now, Remote Help Desk Support may be the answer. We use remote Help Desktop software to establish connections to any PC within just a few seconds. We can repair your computer or perform a virus removal. Need help with email setup not a problem. Give us a call anytime and we will determine if working on your computer remotely is the best solution. If you own a small business let us show you how you can access your data from anywhere in the world. Don't  want to go to the office today but need get some work done. Eric's computers can help you set this up. There are many free solutions.
It's as simple as calling us, going to the remote help page, and clicking on the Remote Help icon.
With your permission we will come on your desktop and help resolve any computer problems you are having. This includes virus removal.