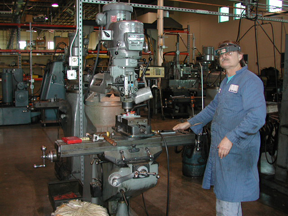 About Eric's Computers
---
In the 80's and 90's Eric Hansen, Eric's Computers founder, worked as a Tool and Die maker in a local die casting plant. In his spare time he also ran a photography business. As the digital age started to materialize Eric moved from the Chemical darkroom to a digital one. Having had a strong electronic background and a passion for gadgets and with the help of his brother (a Silicon Valley electrical engineer) Eric built his first photo editing computer.
Eric Hansen found computer technology so fascinating that he started attending night classes at the local college. Soon friends and family started asking Eric for help fixing their computers. By this time Eric's photo darkroom had transformed into a computer repair shop. In the year 2000 Eric registered the domain Ericscomputers.com. A few months later we experienced the beginning of the Dotcom crash. Companies in Silicon Valley failed and work in manufacturing slowed or moved to China. Eric's days as a Tool and Die maker had come to an end. Seeing a real need for a mobile service, offering computer support, computer sales and computer repair, Eric with his wife Debbie launched Eric's Computers.
In business now since 2001 Eric's Computers serves over 5000 home and small business clients throughout the east bay including but not limited to Concord, Martinez, Walnut Creek, Lafayette, Orinda, Alamo, and Danville offering the best service in computer repair, computer sales, and mobile service.